Though in the Florentine countryside this dish was once commonly referred to as "Pezzole della nonna," or "Grandma's Handkerchiefs," these savory crêpes, filled with ricotta and spinach, and covered in a creamy besciamella sauce, are the epitome of Florentine sophisticated cuisine.  In fact, given its elegance and delicacy, Crespelle alla Fiorentina is a dish traditionally used as a first course on special occasions. The term crespelle derives from the term "crespe," meaning wrinkle, and refers to the lines of the crepes.  It is also the origin of the French "crepe," the French circonflexe indicating the original presence of an "s" after the vowel. In fact, many Florentine dishes influenced French cuisine in the 1500s when Catherine de' Medici married Enrico II, King of France, bringing her serving staff with her. For more about Florence, check out Florence, City of Lilies!
The following is a version of Crespelle alla Fiorentina, adapted to be gluten-free.
Cuisine: Italian, Tuscan, Florentine
Course: First Course
Yield: 12 individual filled crêpes
Ingredients:
800 g ricotta, preferably of sheep's milk
150 g cooked  spinach, squeezed of all excess water before measuring
50 g grated Parmigiano cheese, plus additional for garnishing
1 egg
nutmeg, for grating
1/2 tsp salt
Besciamella (Béchamel) sauce (from one quart's worth of milk), creamy without being too dense
1/2 c simple tomato sauce
Preheat oven to 375° F. Butter a medium-sized oven pan and set aside.
Chop spinach finely and place in a large bowl. Mix in ricotta, eggs, Parmigiano cheese, nutmeg, and salt, until blended uniformly.
Place a crêpe on a flat work surface and spoon a bit of ricotta mixture in a horizontal line, about one inch wide, across the length of the bottom half of the crêpe. Roll the crêpe around the mixture, and place in the buttered pan.
Repeat with the additional crêpes, placing one filled crêpe loosely touching the next until all the space of the pan is filled.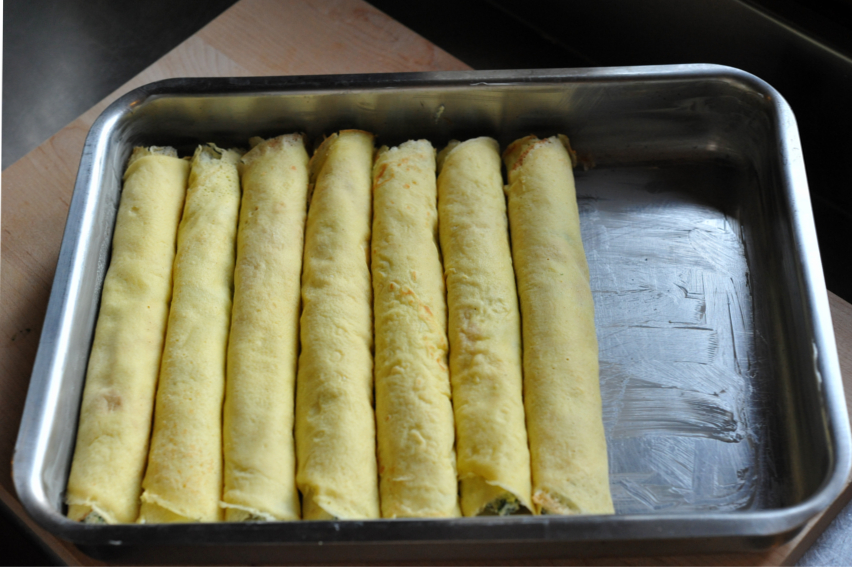 Pour the béchamel mixture evenly over the filled pan.
Using a spoon, distribute tomato sauce across the crêpes in stripes down the length of the pan for garnish.
Sprinkle additional grated Parmigiano cheese over the surface of the entire filled pan.
Bake in oven for about 30 minutes. The surface should be golden and the bechamél sauce dense. As a first course, we usually serve a single crespella, cut in half and placed on the individual plate.
Buon appetito!
Julia and Daniele