Tiramisù is a dish of worldwide popularity and found almost everywhere in Italy. Made with Italian savoiardi dipped in espresso, enveloped in a delicious mascarpone-laden cream, and topped with a garnish of chocolate, it is no surprise that it is a favorite "pick-me-up" for so many people. We like to make them in individual-sized portions, to maintain its elegance when serving, and because it must be consumed immediately upon serving. In fact, if you serve from a single dish, return the extra immediately to the fridge. This recipe is best made a day ahead, which allows the flavors to fully merge and the mixture to fully set.
If you are feeling particularly adventurous, you might want to try making your Tiramisù with our homemade Gluten-Free Savoiardi.
Cuisine: Italian
Yield: 4 portions
Note: Raw egg recipe*
Ingredients:
2 eggs, separated*
65 g sugar
250 g mascarpone cheese
about 1/2 cup Italian espresso (for dipping)
shaved dark chocolate (or sifted cocoa powder, if you prefer)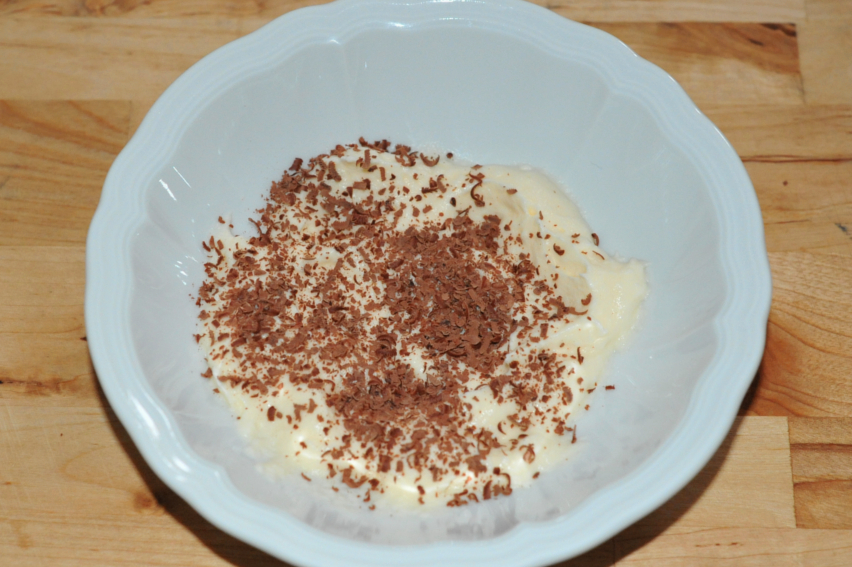 Making the mixture: In a large bowl, beat together eggs and with about two thirds of the sugar until thick and creamy. With a spatula, carefully fold the mascarpone cheese into egg yolk mixture until thoroughly incorporated. In a separate bowl, with thoroughly cleaned utensils, beat egg whites until frothy. Add in the rest of your sugar and continue beating until stiff. Carefully fold egg whites into your mascarpone mixture to obtain your tiramisù cream.
Assembling the Tiramisù: Assemble the ingredients in layers in small individually-sized bowls, in order of preference.  We start with a layer of the mascarpone mixture, then add a layer of shaved chocolate, followed by a layer of espresso-dunked savoiardi (dip into espresso very quickly so as to keep in tact), and a final layer of mascarpone mixture and shaved chocolate. Obviously, depending on the shape of your serving dishes – tall and thin or short and wide – you can adapt the assembly to create one or more layers of savoiardi.  Keep in mind that your individual potions should remain rather small, as it is a filling dessert. Do not fill exactly to the top, as you will cover each individual dish with plastic wrap and transfer to the fridge for at least several hours to chill and set. Serve immediately upon removal from fridge.
Buon appetito!
Julia and Daniele